4 NIGHT WESTERN CARIBBEAN CRUISE ON
With plenty of exciting features to explore, Enchantment of the Seas seamlessly blends entertainment with pleasure. Go from experiencing spotlighting prime cuts of meat at Chops Grille℠  to a soothing, luxurious spa. Let your family experience an ocean of activities, from bungee trampolines to Broadway-style entertainment. Prepare to be enchanted!
Departure Day
Grab a Texas-style breakfast in the historic Strand District. Then explore Galveston's illustrious history on a scenic stroll past well-preserved Victorian mansions. Cruise from Galveston and dig a little deeper at one of the many local museums, where you'll discover oil industry exhibits, a restored 1877 tall ship, and historic Texas artifacts.
Explore at Sea
A day at sea of explore your ship. Several activities and restaurants explore, and rise to the occasion and take on the signature Rock Climbing wall. From beginners to speed climber, everyone can enjoy an unparalleled view from 40 feet above deck. Included in your fare, no reservations required.
Land Explorer
Cozumel blends Mexican culture with Caribbean vibes'; You can explore its Maya roots in Tulum, or discover a secret world of sea life as you snorkel beneath the waves in Chankanaab. And there's no better way to close out a day of adventure than with an ice cold michelada and a beachside massage at Playa Mia.
Activities and excursions
Relax at Sea
Time to relax and enjoy the last day of your voyage! Start your morning in the fitness center and enjoy a couple's massage afterward. After lunch, a Mojito is the afternoon drink of the Caribbean, and Boleros is the place to enjoy them. In the evening, Chops Grille has the hand-cut prime steaks for a delightful dinner. Before bed, head to the Orpheum Theater and catch the evenings entertainment.
MAIN DINING ROOM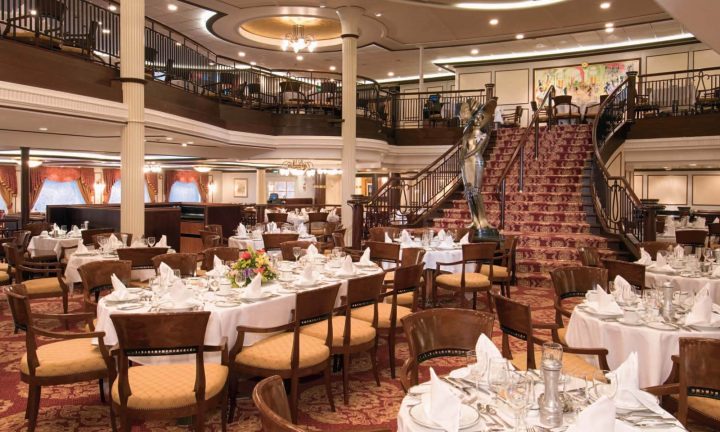 With sweeping, multi-level ambiance, world-class cuisine, and extraordinary personal service, our main dining room serves exceptional, multi-course meals for breakfast, lunch, and dinner each day.
WINDJAMMER CAFÉ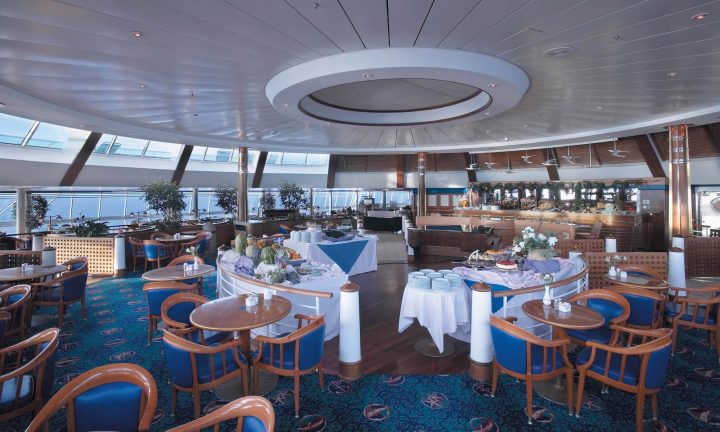 Enjoy an assortment of global cuisines and American favorites at this casual dining destination with spectacular views and a comfortable atmospherethat welcomes guests for breakfast, lunch, and dinner.
PARK CAFÉ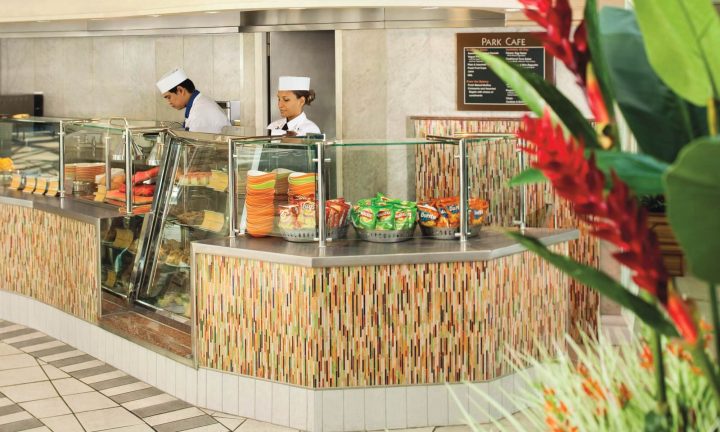 Choose from classic made-to-order deli items such as salads, paninis, and freshly prepared sandwiches. Save room for the signature "Kummelweck" roast beef sandwich, a perennial guest favorite!
ROOM SERVICE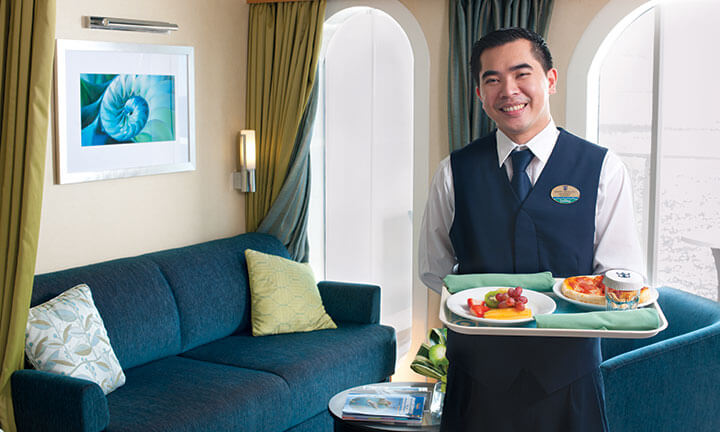 Whether you're craving breakfast, lunch, dinner or an afternoon snack, get it delivered with Room Service, available 24/7.
ROCK CLIMBING WALL
Rise to the occasion and take on the signature Rock Climbing Wall. From beginners to speed climbers, everyone can enjoy an unparalleled view from 40 feet above deck. Included in your fare, no reservation required.
ARCADE
If you find yourself fleeing a gang of ghosts, saving deep space from invaders, or starting a dance revolution, you might be at the Royal Caribbean Arcade. Your favorite games from the 1980s and 1990s are onboard, as well as modern favorites.
BUNGEE TRAMPOLINE
Only ship to bounce you high over the bow with 4 massive bungee trampolines.